La Crescent Chiropractor: Dr. Curtis Zachmeier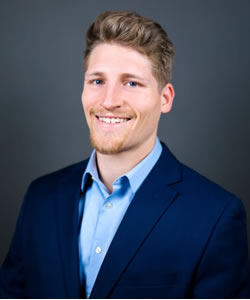 I was first introduced to chiropractic when injuring my neck wrestling at a young age. Luckily my uncle is a chiropractor and treated me regularly following my injury. I was amazed by the relief and improvement in recovery time! I've always been interested in healthcare and from that time forward I set my focus on becoming a doctor of chiropractic.
In 2021 I graduated from Northwestern Health Sciences University with my doctorate in chiropractic. While a student I received extensive training through the Gonstead Methodology Institute of Chiropractic which focuses on highly specific structural correction. I also served as the Gonstead Club President at Northwestern from 2019-2021.
At the end of my program, I had a number of clinical internships, one of which I chose to start my career. I practiced in Edina, MN for nearly 2 years and gained exceptional experience from that opportunity. After deciding that I wanted to be in a smaller family-wellness practice I chose to join the team at Chiropractic First of La Crescent.
Prior to chiropractic school, I attended St. Cloud State University and North Dakota State University where I received my Bachelor of Science while majoring in Biomedical Science. I was inspired at an early age by natural health and have a passion for treatment through specialized non-surgical care and lifestyle enhancement to restore balance.
On a personal note….
I was born and raised around Bismarck, ND where I enjoyed hunting, fishing, and wrestling. I've always enjoyed being active outdoors and have become an avid skier, mountain biker, and hiker. Chiropractic care has been a major part of keeping me active and healthy through injuries and strenuous competition. I am very blessed to be in such a great profession and to be serving the La Crescent area!
---
Dr. Curtis Zachmeier | (507) 895-2225